TravelGuides – Saudi Arabian F1 GP: Verstappen and Hamilton collide in chaotic battle – live! | Sport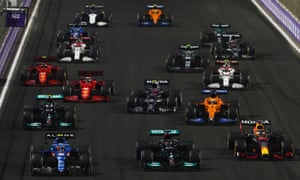 TravelGuides – Saudi Arabian F1 GP: Verstappen and Hamilton collide in chaotic battle – live! | Sport
14:28
Lap 41/50: There is a fierce row going on in the pits between the race director and the teams as to who said what and when … and if it was clear to Mercedes that Verstappen was giving the place back. This really is madness.
Verstappen was clearly slowing though, why didn't Hamilton just go around him, even if he was slightly over to the middle of the track from the left ?
14:25
Lap 40/50: "I think it was a misunderstanding, frankly," says Brundle of that latest incident between Hamilton and Verstappen.
Race control have instructed Verstappen to give the place back to Hamilton.
"Red Bull will say we tried to give him the place back, and he ran into us …" says Brundle … "Mercedes will say he brake-tested us."
Updated

14:24
Lap 39/50: A message from a friend comes in via WhatsApp: "In fairness, Red Bull have correctly calculated that this track turns the race into a lottery and they can take their chances that either a red flag or multiple safety cars will allow them to get to to the end without another pit stop."
14:23
Lap 38/50: Hamilton and Verstappen touch!
This is mad. Verstappen is told on the radio to give the place back … he slows down, but in the middle of the track. Hamilton, seemingly unaware, can't slow down in time and touches the back of Verstappen's car, and damages his front wing! This is crazy!
"He just brake-tested me!" Hamilton says of Verstappen. Wolff is pictured looking furious in the pits. Along with the rest of the team. What is going on!!?
Updated

14:21
Lap 37/50: "Fucking crazy, man," Hamilton says on the radio.
14:20
Lap 36/50: Hamilton is pushing, pushing, pushing … Hamilton overtakes down the start/finish straight! But Verstappen, again, isn't having any of it! They touch in the corner and Verstappen emerges further in the lead!!!
14:17
Lap 35/50: Hamilton sets the fastest lap by 8/100ths of a second. He is a fraction under a second behind Verstappen. This is a great battle. Ocon, Ricciardo and Bottas are third, fourth and fifth respectively.
There is more debris on the track.
14:15
Lap 34/50: "Lewis clearly shoved Max off the track and then Max is blamed for it?" emails Rick McGeady.
I don't agree with that. Hamilton got a better start, by a mile, he 'owned the corner' as Brundle said. And Verstappen, in desperation, went off track to try and keep the lead.
Updated

14:14
Lap 33/50: "Isn't the rule that the criminal is punished rather than the victim resurrected?" emails Rob Rouge. "Max was told to give back his position, i.e. fall back behind Lewis. Esteban did nothing wrong, so could stay where he was. When Valtteri pushed Max off track for a DNF the other day, Max wasn't put back into the race, but Valtteri was punished. It would be good if this Lewis fan site could explain the rules, even when they're not in its hero's favour. This is a good battle between two great talents."
Thanks for the kind words! I am very much neutral and impartial, I can assure you…
14:12
Lap 32/50: The 'VSC' endures at the laps tick down. However this plays out from here, I must admit, I am kind of looking forward to the post-race interviews go. There are going to be a lot of strong opinions from all sides on this one!
14:10
Lap 31/50: "What plays into Red Bull's hands here is that all these virtual safety cars aren't taking much out of Verstappen's tyres," points out Brundle on commentary for Sky.
14:09
Lap 29/50: Another virtual safety car, to clear up yet more debris on the track. I'm getting a lot of emails featuring the word 'farce' … and there is plenty of sympathy for Hamilton in how this is working out so far … Verstappen and Red Bull gambled after that first crash, and it paid off, but the way Verstappen's punishment was handled after he clearly unfairly overtook Hamilton does indeed seem ridiculous.
"The circuit is in the worst condition of the weekend," says one of the drivers on the radio referring to the debris on track. This is dangerous for the drivers.
14:05
Lap 28/50: Debris on the track, and a brief virtual safety car. The gap between the race leader, Verstappen, and second-placed Hamilton seems to be moving up and down. Hamilton is chasing hard … one moment it's 1.5secs, then it seems to move down to under a second.
14:03
Lap 27/50: Top 10:
1 Max Verstappen Red Bull
2 Lewis Hamilton Mercedes +1.435
3 Esteban Ocon Alpine +14.279
4 Daniel Ricciardo Mclaren +18.238
5 Valtteri Bottas Mercedes +18.354
6 Pierre Gasly Alphatauri +20.849
7 Antonio Giovinazzi Alfa Romeo Racing +28.715
8 Carlos Sainz Ferrari +31.885
9 Charles Leclerc Ferrari +32.968
10 Lance Stroll Aston Martin +36.591
14:02
Lap 26/50: The gap between Verstappen and Hamilton is down to under half a second!
14:01
Lap 26/50: "I agree with Felix Wood. This is a farce," emails David in Stockholm. "It reminds of Michael Schumacher running people off the track to win and no one did anything. That's when I stopped watching the sport. This is season has got me back into it, but this is no good … I'm off out for a beer. Greetings from Stockholm."
Updated

14:00
Lap 25/50: Hamilton is 1.2secs behind Verstappen. Can he catch his prey and overtake? How is Verstappen's car going to hold up after that qualifying crash? What is the tyre strategy going to be for the two protagonists in the title race from here?
13:58
Lap 23/50: In the pits, Toto Wolff looks ashen-faced. Hamilton and Mercedes lost a lot of time, for some reason, on that last lap before the virtual safety car. The virtual safety car ends with Tsunoda in the pits. And we are racing again …
13:57
Lap 23/50: Yellow flag! Tsunoda (AlphaTauri) spins off, his front wing comes off, and he gets a bit snarled up while trying to drive over it … and now it's a virtual safety car!
13:54
Lap 22/50: Hamilton trails Verstappen by 1.5sec, doing his best to put his title rival under pressure.
13:53
I hear you, Felix, but I guess the race director, rather than asking for Red Bull to decide, was gauging whether or not they would protest his decision, which is an important distinction. It did seem odd though, no question about it.
13:52
"I'm genuinely baffled by this," writes Felix Wood on email. "Since when do teams get to decide what is an acceptable punishment for them? Ocon was first because Verstappen broke the rules, but Red Bull get to decide the starting order? And the stewards don't get involved at all? This is a farce, no?"
13:51
Lap 20/50: Hamilton is under a second behind Verstappen. Verstappen sets the fastest lap.
"Lack of power, guys," Verstappen says on the radio. It's all happening.
Updated

13:50
Steve Ditchburn emails regarding that second standing start: "So Hamilton was leading and Verstappen did something that caused him to drop two places? Then the race director says that Hamilton has to drop to second!!Surely that cannot be right?"
Updated

13:48
Lap 17/50: Amazing stuff, really. A real ding-dong battle on and off the track … Hamilton overtakes Ocon and is now in second place, hunting down his title rival Verstappen.
They replay the start on TV – it's almost as if Hamilton had no idea Verstappen had the pace – or the intention – to try and take him on the inside into that first corner. It was a bold move by Verstappen to say the least and it paid off. And that was the THIRD standing start that we have had so far today …
Updated

13:47
Race restarts! Lap 17/50: Verstappen overtakes Hamilton!
Well … that was exciting … again! Verstappen brakes late, diving down the inside of Hamilton. Ocon is forced wide on the outside as a result of Hamilton having no space … and Verstappen leads!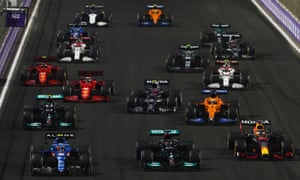 Updated

13:45
Colin Boulton emails: "Why should Hamilton not be on pile for the restart, he did nothing wrong."
13:44
As mentioned on commentary on Sky Sports, the incident with Verstappen and Hamilton was not referred to the race stewards. It was the race director who negotiated with Red Bull regards to the punishment for Verstappen.
Anyway, it's pretty clear that as George Russell said, the drivers need to absolutely millimetre-perfect to avoid crashing on this narrow, fast circuit …
It's another standing start, says Michael Masi. We're going to have the third standing start of the day … I wonder if it will be as exciting, and as controversial, as the last one.
13:40
"My Gawd, this could turn into a fiasco of a GP," emails Steve Carbert. "I'm still expecting Max Verstappen's gearbox to implode though."
13:37
"Unless Hamilton wins by enough to have a points lead going into the last race, he will have no chance in Abu Dhabi," emails Phil Haran. "Because it's clear Verstappen WILL take Hamilton out to win the championship. There can be little doubt about it after this last restart."
13:36
This is all quite odd, but it's interesting. "Uncharted territory, I would say," observes Brundle. It seems likely now that the race will restart with Ocon on pole, Hamilton second and Verstappen third. We've already had two red flags. Half an hour ago, Verstappen looked to be in a perfect position, having elected not to pit after Schumacher's crash. Now, after the race restart in which Hamilton got a much better start than his rival Verstappen, it seems the advantage it back with the British world champion, after Verstappen attracted censure from the race director for going off track at the first corner.
13:33
Correction, so the deal is: Ocon will be on pole, Hamilton second, Verstappen third.
13:31
Red Bull say they will accept P2, on the condition that Ocon is on pole, which seems like a ludicrous idea to me. Obviously it would not be fair to drop Hamilton down to third given he led into the first corner, and was in control of the race, before a move by Verstappen that the race director has now concluded was not fair.
Updated

13:30
Toto Wolff is pictured marching down the pitlane.
Red Bull are told that Verstappen can start in second position, a place behind Hamilton, after what occurred at the first corner. Red Bull ask for a minute or two to think about it. "We thought we were pushed off there," they say.
Updated

13:28
The problem for the stewards, in one way, is that Esteban Ocon of Alpine made his way between Hamilton and Verstappen on that corner, so can they reasonably demote Verstappen two places, behind Ocon?
Updated

13:26
"Was it fair in your opinion?" Brundle is asked by David Croft of Verstappen's move at that first corner.
"No. Lewis owned the corner."
13:24
Lap 15/50: This is going to be a very interesting decision for the stewards … Hamilton went down the inside, and was clearly ahead having got a far, far better start than his rival … Verstappen just veered on the outside, off the track, 'outside the white line' as Hamilton says on the radio to his team now, and retook the lead.
"And you are also obliged to rejoin the track in a safe manner," says Brundle.
Verstappen will have to give the place back … won't he?
Updated

13:22
Lap 15/50: Race restarts! Mazepin crashes! Another red flag
Wow! Wow! Hamilton got a better start by Verstappen, by miles, and led into the first corner … but Verstappen forced his way back across the track, and just bullied his way back into the lead … back down the track, Nikita Mazepin smashes into the wall in his Haas, and it's another red dlag.
13:20
Lap 15/50: Verstappen is now complaining that Hamilton, who should be no more than 10 car lengths behind on the formation lap, is way more than that behind. "That's not allowed," says the Dutchman.
Updated

13:18
"Why is the safety car driving so slow? We can't heat up the tyres," Verstappen complains on the radio, a familiar refrain.
TravelGuides – Saudi Arabian F1 GP: Verstappen and Hamilton collide in chaotic battle – live! | Sport